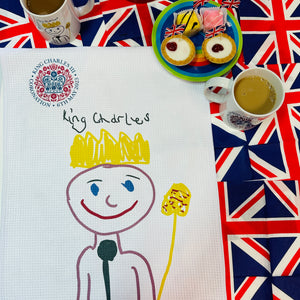 Coronation Tea Towel - Limited Edition!
Regular price $29.00 Sale
Celebrating King Charles III coronation with a limited edition Tea Towel! Your child can draw a picture of the King (or anything they'd like!) to mark this historic occasion!
The wonderful tea towels have the official coronation logo in the corner and your child's drawing will be fully spread over the tea towel.
The tea towels are a waffle material and are 40cm x 60cm
Wash as normal. Do not tumble dry.
We'd recommend having the paper in the landscape position when you do your drawings
Brightly coloured felt tip pens or paint look incredible on the Tea Towels!
If choosing the glass mug please only do you drawing in brightly coloured felt tips.