Why Dinky Artist
We create the most the most thoughtful, personal gifts using children's drawings, whilst helping you raise vital funds for your child's school, pre-school, nursery or club!
• We take all the hassle out of the process - we do ALL the design work for you saving you hours!
• 5 star premium quality products your families can use and enjoy for years to come
• No minimum order on repeat orders
• Bespoke designs - no set template or limitations
• We're a small business, at the end of an email to help answer any of your questions every step of the way
How it works
1. We can create your school, nursery or club incredible items with your children's drawings on which you can sell to parents, friends and family
2. You buy them from us, you sell them for more and you keep all the profits
3. For a pricelist and our recommended selling prices please email us at schools@dinkyartist.com
4. Once you know what you'd like to order email us schools@dinkyartist.com and we'll send you an invoice along with a pre-paid box for your drawings to go in
5. The children create their artwork on any white paper. Please just use brightly coloured felt tip pen or paint. Handprints work well too!
6. Add in a picture of the school/club logo if you'd like this included
7. Fill the pre-paid box with all the drawings, complete the enclosed short form and post it back to us.
Our design process is entirely bespoke and we will work with your artwork and any other logos you provide to produce a glorious product for you. However, if you have any specific requests in terms of design please let us know
8. We edit your drawings, design your gift and send you a proof to approve before it goes into production
9. You will receive your products within 2 weeks* of us receiving your drawings and payment
10. Sell your products (use our suggested pricing or select your own) and plan how you'll use the funds generated!

Our products
We are able to add text and/or school/class logos to each of the products listed below. We recommend using bright coloured felt tip pens for the drawings so that the colours are really vibrant, and that each picture is simple – a bee, a flower, a face etc - not a whole scene!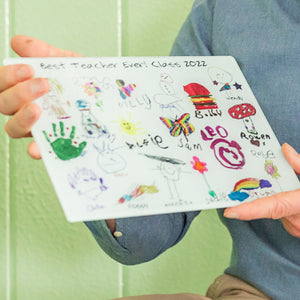 Chopping Board
- The chopping boards are glass, with rubber feet to stop any slipping when used on the surface

- They are 100% dishwasher safe and are 30cm x 20cm

- The brightly coloured drawings look incredible through the glass!

- We can fit up to 40 drawings onto the chopping board making them an ideal choice for a class or smaller nursery setting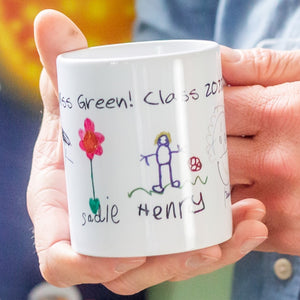 Mug
- The mugs are ceramic, hold 11oz of liquid and have a high gloss finish which makes the colourful drawings really pop!

- They are 100% dishwasher proof

- We recommend up to 20 drawings on our mugs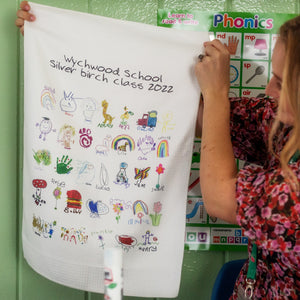 Tea Towel
- The tea towels are 40cm x 60cm and can fit up to 55 drawings on

- They are a thick, premium waffle material
- They come in their own individual bag which is ideal for immediate gifting

- They can be washed as normal. Do not tumble dry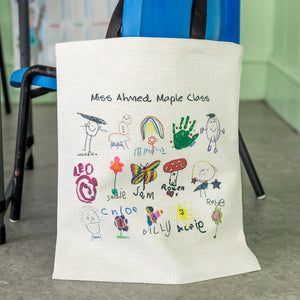 Tote Bag
- This ultra premium bag is made from hardwearing canvas and is 37cm high, 32cm wide and with the handle it's 60cm in height

- We will create your drawings on both sides of the bag so this product is really versitile
- We can have up to 50 drawings on both sides so up to 100 altogether making it perfect for larger schools/clubs
Travel Mug
- The travel mugs are thermal, hold 15oz of liquid and have a high gloss finish which makes the colourful drawings really stand out!

- They fit into cup holders in the car perfectly
- They are 100% dishwasher safe

- We recommend this product for a class set of drawings- up to 30 in total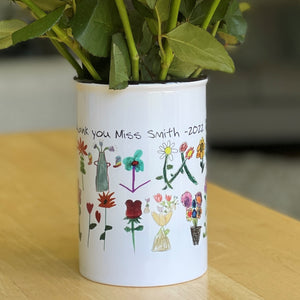 Vase
- The vases are ceramic, have a black inside and a high gloss white finish which makes the colourful drawings really pop!
- They are 13cm high and 8.8cm wide so perfect for a whole bunch of flowers!

- They are 100% dishwasher safe
- They make a great choice for individual classes- we can add up to 30 drawings to our vases